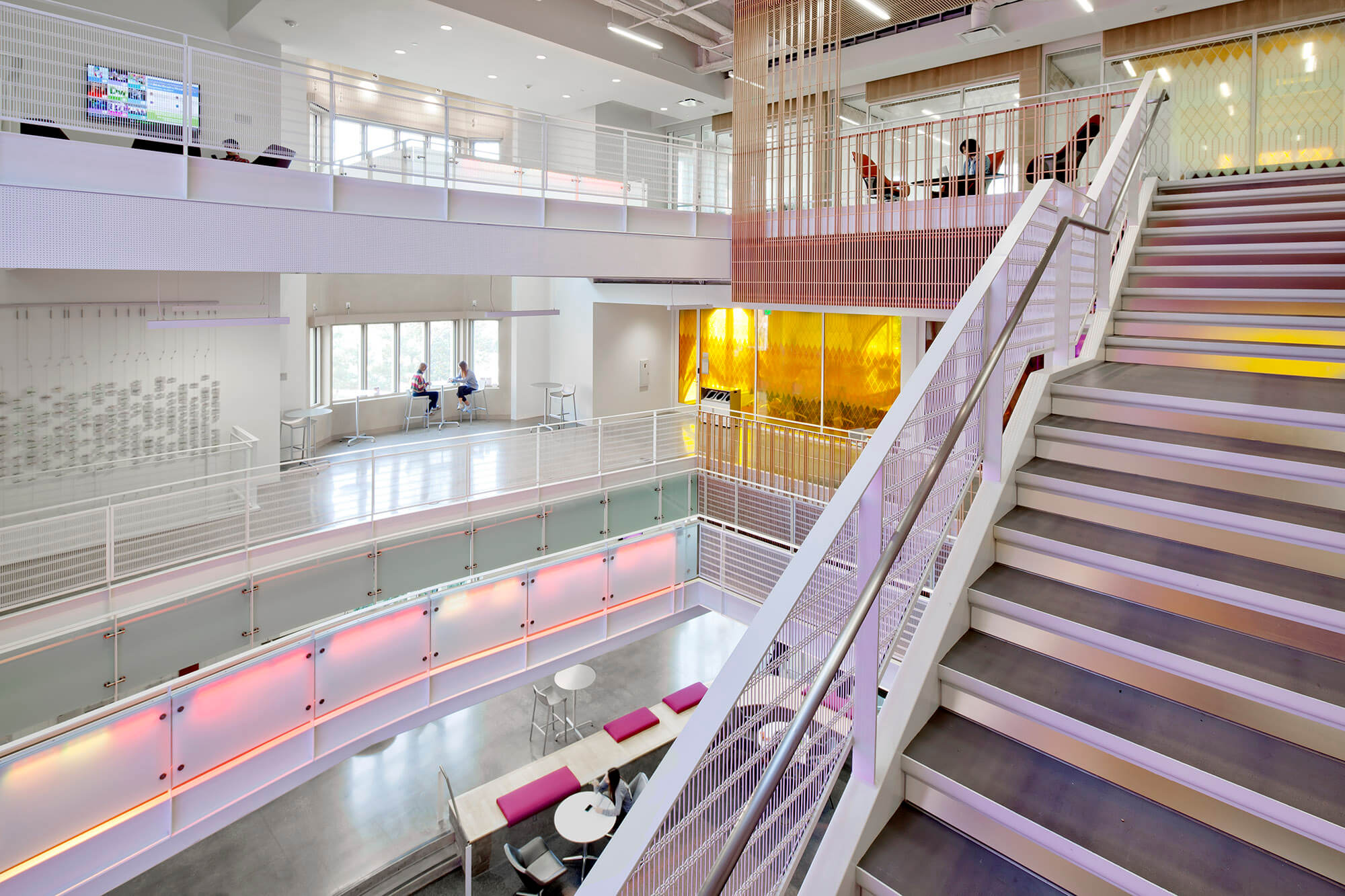 U.S.C. Annenberg School of Communication and Journalism
This image was made from the top of a twelve foot ladder situated on the stairway itself, and held solid by two assistants. Directly to the left, out of the frame, there was a media screen about twenty feet in height and at least eight feet wide. The screen was brightly illuminated, changing background colors from red to blue, to orange to purple. Turning it off, or covering it was not an option, so it was up to me to choose colors. I chose purple, because it mixed well with the natural light coming in from the left wall – thus the lavender spill that pervades the space.
Anaheim Convention Center, for Populous Architects
Populous Architects of Kansas City wanted a new set of photographs of a recent project - the Anaheim Convention Center expansion - to show their project in use and to show the people who use their projects. After all, Populous was so named because they wanted to rebrand their firm as a people oriented architecture and design firm for large public projects.
Robert Frost Auditorium, Culver City, CA
This remarkable building received a recent major renovation from my client Hodgetts+Fung Architecture and Design. The original building was designed by a city engineer who had a vision for something modern and different than most city buildings. He built up berms on site, to create molds for the clam shell ribs visible in the original ceiling. Hodgetts + Fung added a dynamic catwalk and mechanicals structure supported by an arch spanning the entire stage. The also added a state of the art LED light system hidden in the metal "sails" visible along the right (rear) side of the house. The effect is a dynamic combination of engineering and aesthetics for Culver City High School.
New Gymanasium, International College of Beirut
This image required intensive work with a translator, five staff members, and a multi-layered composite in order to get all the lighting and activity into one file. I'm very happy and proud of this photograph, taken in Beirut in 2014.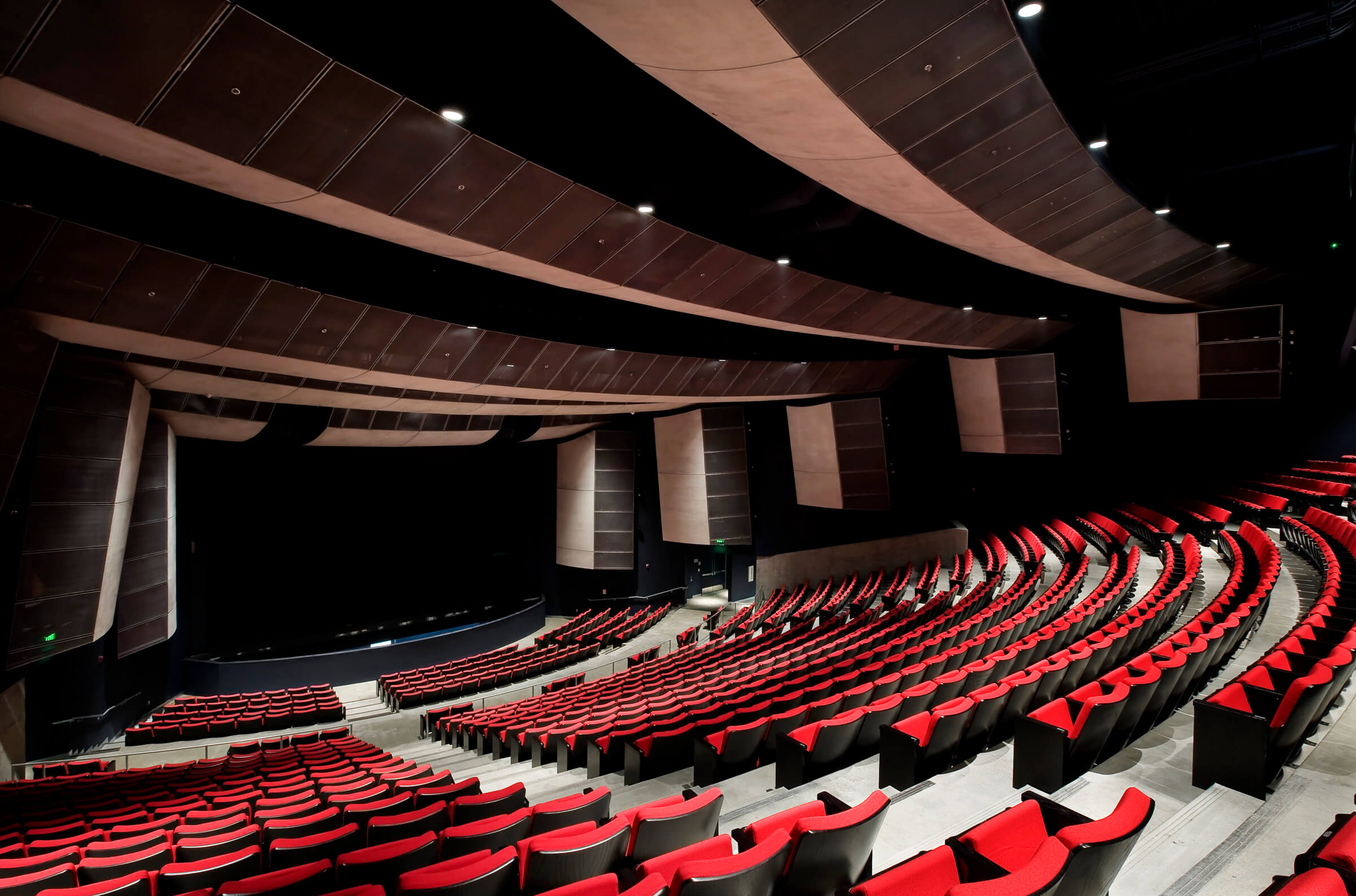 High School #9 Auditorium, Coop Himmelb(l)au Architects
Now the Ramon C. Cortines School of the Performing Arts, this school was known as High School #9 when I photographed it for the architects. Coop Himmelb(l)au has since published a monograph by that name (High School #9) with many of my images included. Any survey of architecture or architectural photography in Los Angeles would be incomplete without photographs of this school. It is one of an ensemble of buildings on or near California Plaza designed by important international architects including the Los Angeles Cathedral, the Walt Disney Concert Hall, the Broad Museum of Contemporary Art, and the Museum of Contemporary Art. Eli Broad was instrumental in making this building happen, and a strong source of financial support for the project.
The Lolina House, Hollywood Hills, Los Angeles
This newly refurbished home in the Hollywood Hills by Arthur Golding Architects, was originally a common tract home. The new design is clearly a transformation to California modernism with an indoor-outdoor life-style and an open, airy feel to the space. I was sitting on a wall in the swimming pool in order to get the camera low enough to shoot under the table and into the kitchen at the far end. I got soaked, and the owner occupant was kind enough to lend me a dry pair of shorts to wear home.
Robert Frost Auditorium, exterior evening
The exterior lighting for this building, thanks to the architects Craig Hodgetts and Ming Fung, was a couple of levels above the average exterior lighting for commercial and institutional buildings. The exquisite lighting across the top of the arch, for example, I have to credit to Craig though I wish they were mine! We still added lights to the concrete deck, the sign wall, and the ticket booth to get the subtle completion that we were looking for.
Press Building, Beirut, Lebanon
Girl Running, International College of Beirut
Spontaneous, candid event while shooting at the International College of Beirut for Flansburgh Architects of Boston. The client wanted to show an updated, active, modern school but in an urban context.
Villa, Mount Lebanon
This villa designed by French architect Raoul Véreny takes its shape and materials from a traditional shepherd's home, with steps on the left going up to the roof where his sheep were kept safe from predators. There were no sheep to be seen. The humble presentiment hides the some four thousand square foot structure behind it– three more levels in modern glass and wood cascading down the mountainside, ending in a flower garden at the top of a cliff with a view of Beirut and the Mediterranean in the distance.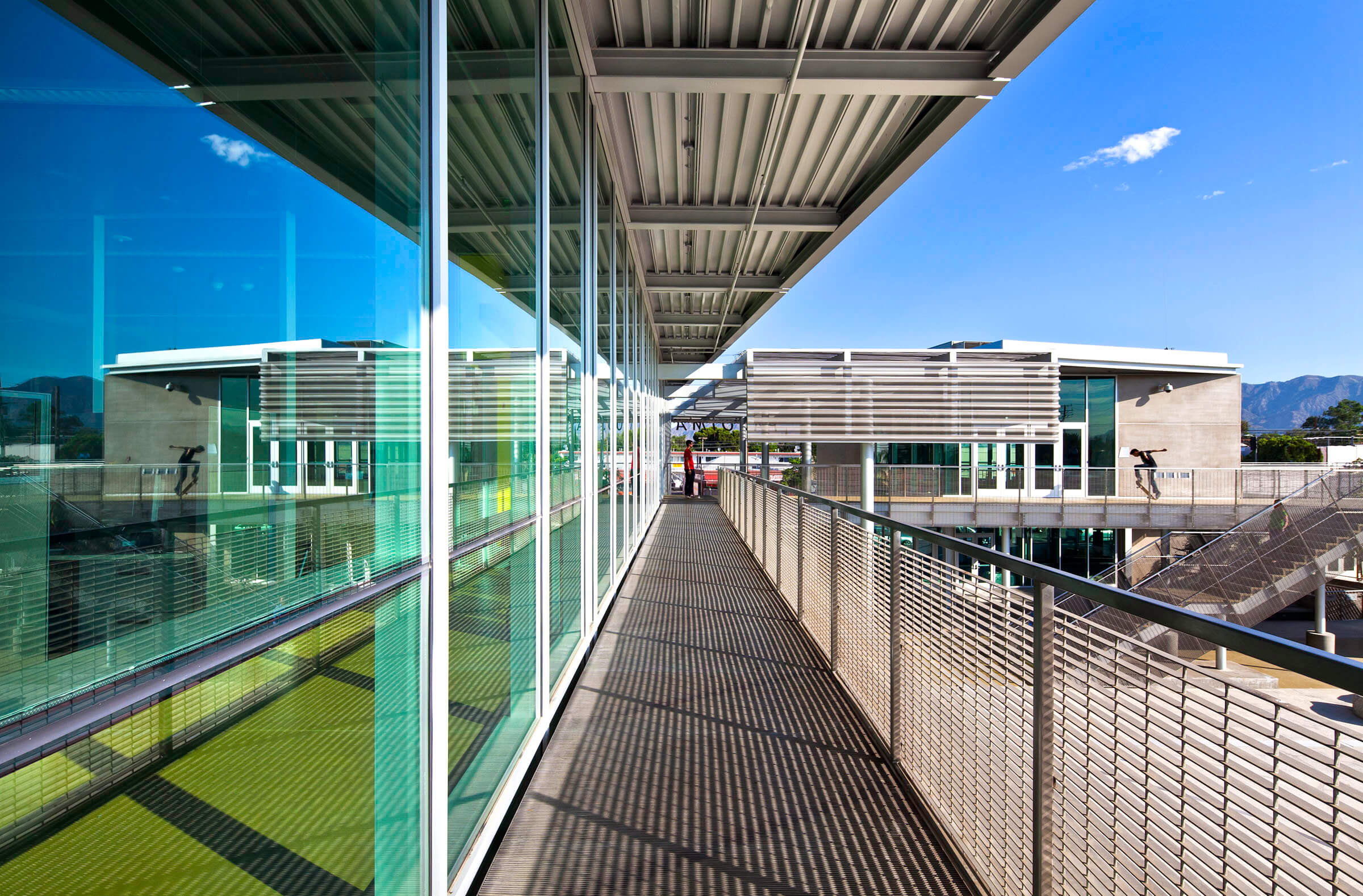 Pacoima Neighborhood City Hall
The Pacoima Neighborhood City Hall is a community center that holds offices for the city councilman and other city officials, while hosting neighborhood activities and programs. My client wanted to show the casual attitude of the building, and its layout with outdoor space and a modern feel..
Beirut Exhibition Center, Beirut, Lebanon
Sometimes it's simply the facade and the way it presents itself as an emblem of the building's design that is the most compelling architectural statement for a photograph.
Dining and Kitchen in Bel Aire
The dining and kitchen area in a beautiful luxury home in Bel Aire, designed by Michele Saee.
High School #9, Student Commons Area
The Walt Disney Concert Hall
Please see my blog page for details about this photograph.
Mykita Flagship Store
This is one of several interior photographs we did for Mykita of Berlin in the Los Angeles flagship store in the Eastern Columbia Building, a landmark location in downtown Los Angeles.
Lane Barden: Los Angeles Architecture and Interiors Photography
Lane Barden is a veteran architecture and interiors photographer with clients and a publication record world-wide. This site contains dozens of samples of his professional and personal work, a list of services, and an interesting blog . Contact: lane@lanebarden.com or call 213.804.5415.