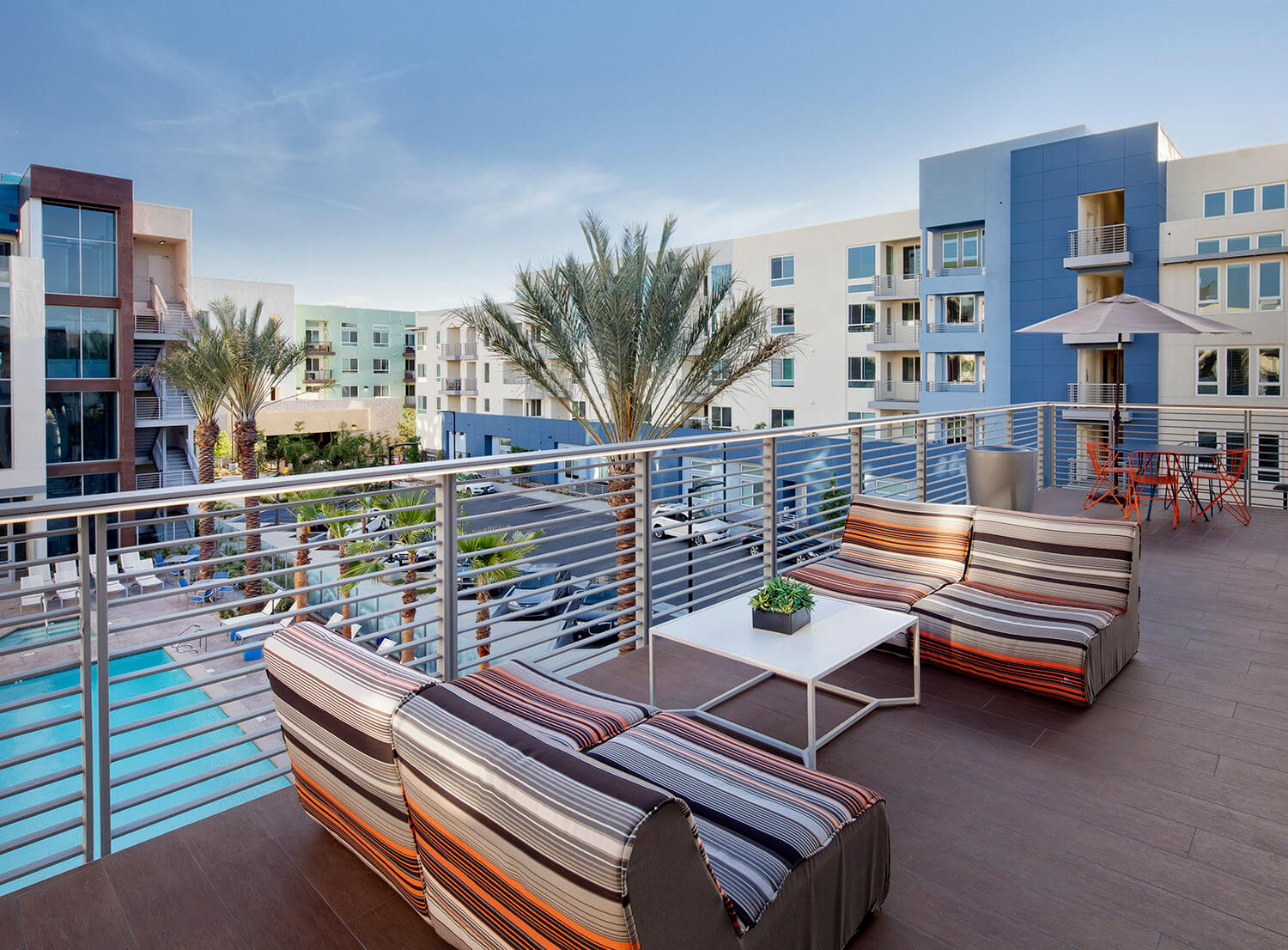 The Boardwalk Apartments, Huntington Beach, CA
The Boardwalk Multi-family Apartments, Huntington Beach, CA
The difficulties in executing an image like this are numerous. Sometimes, as is the case here, as many as eight or ten lights must be added just to brighten the exterior facades. Most of the time, existing exterior lighting is a problem, and must be eliminated in post, or the photograph must be made prior to the time when the lights are programmed to turn on. When the building is occupied, it is nearly impossible to arrange for the tenants to turn on their lights to illuminate the windows, because the management cannot insist on that (understandably), which means that the windows must be left dark, or they must be fixed in retouching. And the sheer amount of signage that must be retouched in post production is extreme. All tolled from shooting to finishing post, this image probably took seven hours to complete.
Fitness Center Deck: The Boardwalk Apartments, Huntington Beach, CA.
Lane Barden; Los Angeles based Architectural Photographer
No doubt, there are two distinctly different kinds of exterior photographs – daylight images and evening shots. Because the evening shot is so dramatic there are very few jobs that do not require at least one of them. Sometimes it is necessary to hire a second shooter to do more than one evening shot the same night, because it is inadvisable to attempt to do two of them yourself. If you encounter an architecture photographer who claims to "specialize" in evening shots, take that with a grain of salt. Every architecture photographer must specialize in evening shots or they won't get very far. But in my estimation, daylight shots are more challenging, because the light and the treatment in post-production are harder to get exactly right. Most of the time the difference between a great daylight image and an average one is difficult to detect or to articulate. It's about crispness and a careful modulation of densities that operate subliminally and does not announce itself. More often than not, it is about treatment in post. I take a lot of time and effort to see that my post-processing doesn't reveal itself. It's like using herbs and spices in a complex recipe. There has to be enough to make a difference, but not enough to recognize the flavor of the herb.